Radar data example
bioRad can read weather radar data (= polar volumes) in the ODIM format and formats supported by the RSL library, such as NEXRAD data. NEXRAD data (US) are available as open data and on AWS.
Here we read an example polar volume data file with read_pvolfile(), extract the scan/sweep at elevation angle 3 with get_scan(), project the data to a plan position indicator with project_as_ppi() and plot the radial velocity of detected targets with plot():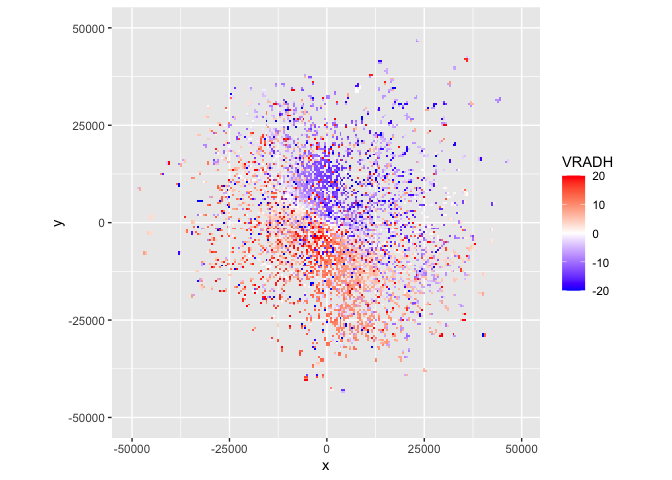 Radial velocities towards the radar are negative, while radial velocities away from the radar are positive, so in this plot there is movement from the top right to the bottom left.
Vertical profile data example
Weather radar data can be processed into vertical profiles of biological targets using calculate_vp(). This type of data is available as open data for over 100 European weather radars.
Once vertical profile data are loaded into bioRad, these can be bound into time series using bind_into_vpts(). Here we read an example time series, project it on a regular time grid with regularize_vpts() and plot it with plot():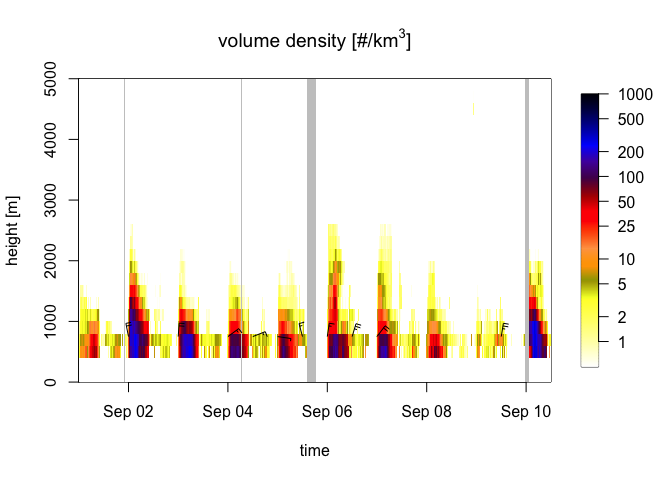 The gray bars in the plot indicate gaps in the data.
The altitudes in the profile can be integrated with integrate_profile() resulting in a dataframe with rows for datetimes and columns for quantities. Here we plot the quantity migration traffic rate (column mtr) with plot():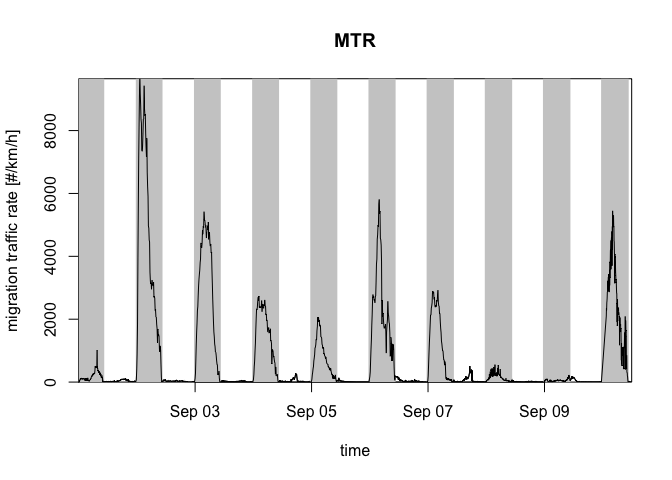 To know the total number of birds passing over the radar during the full time series, we use the last value of the cumulative migration traffic (column mt):



my_vpi

 

%>%


  

pull

(

mt

)

 

%>%

 

# Extract column mt as a vector


  

last

(

)




#> [1] 129491.5
For more exercises, see this tutorial.